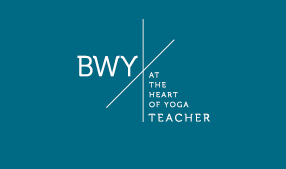 Yoga is an ancient science studied for thousands of years. The word Yoga means to unite or yoke (in the sense of harnessing or joining). When you practice yoga at a personal level you are re-connecting body and mind as one. In the greater scheme of things we are re-establishing our connection to all living things, recognising that we are all part of one system.


'The main objective of Hatha Yoga is to create an absolute balance of the interacting activities and processes of the physical body, mind and energy. When this balance is created, the impulses generated give a call of awakening to the central force which is responsible for the evolution of human consciousness' Hatha Yoga Pradipika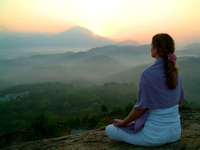 Most people choose Hatha Yoga as a way to relax and unwind from the events of the day, a little 'me time' in an otherwise busy life. Regular Yoga will improve your health and contribute to your overall wellbeing. As we learn about our physical flexibility, strength and balance it can naturally spread out into other parts of our life, cultivating compassion, thoughtfulness, patience and peacefulness. It can be powerful and transformative practice.

Benefits of Yoga
Hatha Yoga can offer many benefits to those who practice, including...

greater flexibility and better movement in the joints
improved posture and spinal health
better circulation
greater efficiency and healthy functioning of the internal organs
increased muscle tone with stronger yet lengthened muscles
more energy and improved fitness
better focus and powers of concentration
a calm and positive outlook
reduced toxins in the system
higher levels of confidence and self esteem
boosted immune system with greater resistance to illness
increased self awareness with more respect for your body
a more youthful appearance

These benefits can be achieved whatever your age, ability or experience. A good teacher will help you to make the most out of your practice with as much challenge as you are happy to have, while keeping you safe.

For more info on research into Yoga
Science of Yoga Postures
Science of Therapeutic Yoga
We're never too old to practice yoga

And a really fantastic, heartwarming story of how yoga has helped a guy get his life back Arthur's Inspirational Transformation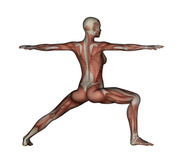 What can yoga do for me?
By moving respectfully and gradually, holding postures if appropriate, it tones the body, lengthening and strengthening the muscles, working both layers of muscle tissue. The bending, stretching and twisting movements massage the internal organs and stimulate the circulation. The movements also stimulate other bodily fluids such as the sinovial fluids which 'oil' the joints and support their flexibility. Within the postures the whole of the body is engaged including our fingers and toes and even our eyes.

Synchronising the movement with breath increases the impact of the postures, whilst breathing techniques promote increased and more efficient use of the lungs and therefore raised oxygen levels in the blood. This oxygen enriched blood is distributed throughout the body to all the organs, including the heart and skin helping their effective functioning. Increasing you awareness of your breath and focussing time and attention on its rhythm and patterns can improve your health mentally as well as physically.

Yoga is a unique practice encouraging complete health and wellbeing.

For more info
Yoga and Back Pain
Yoga and Back Pain video
Yoga vs physio for Back Pain
Managing Pain by Improving Posture
Immune System and Meditation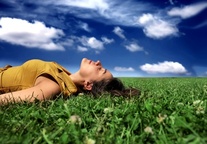 'The whirlpools of the mind can be stilled by the breath.' Patanjali

Yoga promotes a healthy mind. The balances develop levels of concentration, while the forward bends help to promote quiet reflection, turning our focus inwards. The breathing techniques encourage deep, slow, relaxed and rhythmic breathing. A positive breathing pattern has been demonstrated to directly affect the mind. It calms, clears and focusses the thought processes.

When the mind is still, the body calms and in this way Yoga practice can combat anxiety, restlessness and stress. A peaceful yet alert mind is better equipped to focus or let go and unwind, giving you a more relaxed and balanced approach to all aspects of life.

For more info
Yoga and Depression
Yoga, Meditation and reducing blood pressure


'With a free mind, in no debt,
Enjoy what has been given to you,
Get rid of the tendency to judge yourself
Above, below, or equal to others.' Buddha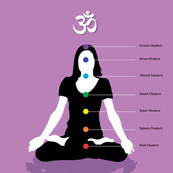 Yoga practice starts from where you are, physically, mentally and emotionally. I will encourage you to work at your pace, so you feel safe and make progress that is right for you. Unlike many other forms of exercise, Yoga encourages you to notice; how you are feeling, what is going on in your body and it raises your body awareness. Yoga actively discourages you from working beyond your own body's capability, it can teach you to appreciate yourself more. It will help you to redress the balance where day to day activities like sitting in a chair, at a desk or in a car take their toll on your wellbeing.

With all these benefits and more, there is increasing recognition of Yoga's therapeutic value and it's application to help people to rehabilitate from injuries, recover from illness and or cope with conditions.

Yoga and pain relief for chronic muscle ache
Yoga and Breast Cancer
Yoga and a Broken Back
Reducing the risk of falls
Professional Sports People Use Yoga to Speed Recovery
Managing Scoliosis
Benefits of Yoga to Athletes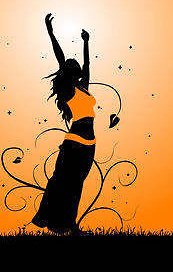 My Classes
I currently run the following classes which are suitable for beginners and everyone is welcome. Please call/email to check places are available.

From 24th May some classes are returning to being held in person.
Monday evenings at Utkinton Village Hall at 7pm
Tuesday mornings at Cotebrook Village Hall at 930am.
Both Tuesday and Thursday evenings will remain online.
Contact me if you want to know more.
Thank you for your understanding and support

Mondays 7pm at Utkinton Village Hall, Nr Kelsall. CW6 0LP click here Utkinton Village Hall Map

Tuesdays 930am at Cotebrook Village Hall, Cotebrook, Nr Tarporley. CW6 0JJ click here Cotebrook Village Hall Map and 7.30pm at Hazelmere, Hambleton Way, Winsford. CW7 1TL click here Hazelmere Map

Thursdays 730pm at Whitegate Recreation Room, Dalefords Lane, Whitegate. CW8 2BL click here Whitegate Map

If you are new to Yoga you might find this article interesting Starting Yoga
'You cannot do Yoga. Yoga is your natural state. What you can do are Yoga exercises, which may reveal to you where you are resisting your natural state.' Sharon Gannon
My classes are relaxing and yet stretching. To be comfortable during class please wear clothes which allow you to bend and stretch. You may want to bring along a bottle of water and a blanket to keep you warm during relaxation. If you have a mat please bring it along, I do have a limited number of mats which can be borrowed.
Whilst practising Yoga can help many conditions it would sensible to consult with your doctor for their advice before starting any new form exercise.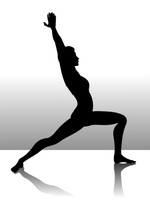 What to expect...
I ask that if you have any injuries or conditions affecting you, that you let me know before the class so that I can work with you to keep you safe and comfortable. There is a very short health questionnaire to complete before you start your first class to cover this and I keep this information on file for as long as you continue to attend classes so you would need to let me know if your health changes at any time.

In my classes we work with bare feet so that you can be safe with good grip and connection to the floor. I tend to start with a breathing technique which is to help you centre and focus on being in class and to leave life outside for the duration of the class. This is often combined with a mudra.

The main body of the class is a series of postures and breathing practices. I encourage smooth breathing habits using the nose so there is a normal flow of air. This is followed by relaxation using various relaxation techniques and visualisations.

Classes all have a focus for the week or theme such as balance or being in the present moment. The idea is that you are invited to use this as a focus during the class to get a little more from the experience.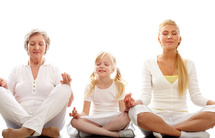 During the class I'll encourage you to work at your own pace and be mindful of your own body and health. We are all different and Yoga recognises that we start from where we are, in terms of our fitness and flexibility.

Yoga works well when we make gradual improvements for ourselves rather than pushing ourselves beyond our limits, you will be encouraged to try postures but listen to how you feel as you hold them. If you experience any pain you should stop what you are doing or we can modify what you are doing.

At any time that you need to, you can rest and take a break from the postures, in Yoga this is a positive thing because it means that you are listening to yourself and what you need rather than what you desire.

It is helpful to arrive a little early for class to get yourself settled and ready to start. I am generally available 15 minutes before class starts if you feel like a bit of chat before class or want to chill out before we start.

Try not to eat a large meal less than 2 hours before the class starts as this is likely to make you very uncomfortable, a light snack up to 30 minutes before is generally ok.

Please call me if you have any queries or questions about my style of Yoga or my classes on 07872 969278 or email on the link above. I will use your contact information to keep you up to date with class information and any changes unless you specifically ask me not to.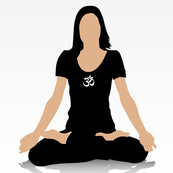 Prices
There are generally between 6 and 8 weeks in term and this does not always follow the school terms. My next term starts on 24th May 2021.

A term of 6 classes is £42 this is payable at the first class of term. If you can't make the first week of term we can make an alternative arrangement.

If you would rather pay as you go then it is £9 per class.

It's best to book your place, particularly in January and September, a place is not confirmed until payment is received, To manage the class numbers I do give preference to those booking for the whole term.

I also offer 121 tuition for those who prefer a personally tailored session. These are ordinarily an hour The first session would include a consultation to understand your general health and what you are looking to achieve from your practice, so may take a little longer. These sessions are £40 per hour. There is an additional charge £5 for each additional client.

I can provide gift vouchers to go towards a class or term's costs, perhaps you might like to treat a friend or relative or even drop a hint for someone to treat you.

Term Dates for 2021
2021

19th July - 26th August
13th Sept - 21st Oct
1st Nov - 9th Dec


Dates are inclusive for Monday, Tuesday, Thursday evening and Tuesday morning classes

Yoga Possibilities?
I can also provide classes for groups, taster sessions and talks.

So, if there's a group of you at a place of work, in a professional organisation, sporting or social club who would like to explore yoga more, please contact me to work out a suitable option. Yoga is often recognised for its ability to help us to relax and improve flexibility but, it can just as easily increase concentration and focus, build strength and stamina and help your body and mind to perform better for you.

Business Performance and Yoga

If you will find it difficult to attend a class for whatever reason or are looking for a specific routine to help achieve your goal; whether that's a therapeutic need to rehabilitate an injury or manage a condition or to help improve performance in a sport or hobby I can help you in a 1-2-1 situation.

Yoga and Improving Sports Performance
Yoga and Runners
Welsh Rugby team and Yoga

Whilst I hold a current first aid certificate and have public liability insurance I would respectfully remind potential students that all exercise is undertaken at your own risk and it is understood that a doctors advice should be sought before starting any exercise regime. Many Thanks.


'Nothing in this world purifies like spiritual wisdom. It is the perfection achieved in time through the path of Yoga, the path which leads to the Self within.' Bhagavad Gita, Ch4v38